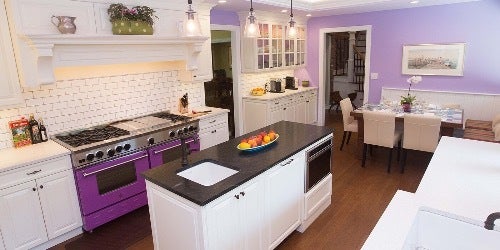 Don't fall into the trap of a fad, because fads have short-lived popularity. Trends build upon an already solid design, but they change to update themselves with the times.
Smart appliances: Wouldn't it be nice to have dinner waiting for you when you get home? That's not some pipe dream, because you can now turn on the oven remotely. You can also program the dishwasher to run water when electrical usage is at the lowest, and least expensive, times. You just need an app, Alexa or Nest. For instance, Bosch has an oven that not only lets you turn on and turn off remotely, but also gives you recipes, tips and suggestions. It even turns your phone into a repair kit.
A place for everything. Appliance garages, closets and plenty of storage keep coffeemakers, blenders and other small appliances off the counters.
Color is now king! For a long time, the all-white kitchen took the top spot, but now we're seeing dark wood veneers, glossy lacquers, black and stainless steel appliances. "Even if you already have some white appliances, you can mix and match them with black to create contrast," said Sophie Todd, an Appliances Connection designer, while Ahmed Ahmed, another designer, added: "It's simple, modern and elegant."
Purple will be REALLY big in 2018. The Pantone Color Institute, a globally recognized source of color information, named Ultra Violet as the 2018 Color of the Year.
"Historically, there has been a mystical or spiritual quality attached to ultra violet," says Pantone on its website, continuing: "The color is often associated with mindfulness practices, which offer a higher ground to those seeking refuge from today's over-stimulated world. The use of purple-toned lighting in meditation spaces and other gathering places energizes the communities that gather there and inspire connection."
If going purple or ultra-violet is just too much for you, think about maybe a grey or blue with purple undertones.
Two-toned cabinets: Get creative with paint to add color and texture, to the cabinet or knobs.
Continued backsplash. Backsplashes aren't just for protecting the walls from cooking mishaps, but they now come in a dazzling array of glass, wood, tile, stone that help to make kitchens the focal point. They also go as far up the wall as possible, rather than stopping midway. "That makes it a lot easier to clean," added Todd, "because you're no longer scrubbing the wall and fighting to get into the nooks and crevices.
Ventless Dryers. For years, these were popular in Europe. We Americans, however, mostly know about those big, hot, vented boxes. That can change very soon, with the increased interest in the environment. Vented dryers pull room temperature air in from its surrounds, heat it up, tumble the clothes and then blow it out through an exhaust pipe. Ventless dryers, while they do pull in air, use a condenser that warms and evaporates. Rather than blowing out air, it just keeps repeating the loop until the clothes are dry. The water either goes down the drain or collects in a tray.
Depending on your region, a vented dryer will blow already temperature-controlled air outside. This makes your furnace or air conditioner work harder; it wastes air that's already been heated or cooled. There are no exhaust pipes with a Ventless dryer, and they also use about 30 percent less electricity.
Of course, there are other advantages, such as being compact enough for small spaces. Since there's no need to create a hole in the wall for the exhaust, they can also be good for rental spaces or boats.
Cuisine and the double-duty deputies. 
Since 2018 will be all about convenience, we'll see a lot of multi-functional appliances, such as the Combi Steam, an oven that uses both steam and convection cooking. Speed ovens combine microwave technology with other technologies, like convection and grilling, so to answer the question you may be thinking, "No, you can't just use a microwave.
One of the 2018 stars will probably be Viking's Turbo Chef, a Speedcook Double Oven from Viking's Professional 7 Series. This oven has a 6.3 CU FT capacity, with a patented airspeed technology, 500 cooking profiles and seven (7) high performance speed cook modes. It cooks food 15 times faster than conventional cooking methods, and has been tested in 130,000 commercial kitchens worldwide.
"Whether you're a professional cook or an amateur one who frequently cooks, bakes and entertains, this is the product for you," said Sindi Cela of Appliances Connection.
Some things never die, such as:
The open layout, so even those in living or dining rooms can visit with the cook.
Kitchen islands, because they add extra work and seating space, as well as additional storage and even some amenities like a wine rack.
Quartz countertops, because they are so durable; they resist chipping and scratching better than some other materials. Quartz counters are even less prone to absorbing stains because of the material's low porosity. Best of all, you can make your own unique design statement ("customization" is also another 2018 buzzword) because the material comes in so many colors you can mix and match.
Embracing the old and the new. It doesn't have to be an exact match so coordinate. For instance, combining a few antique pieces with modern ones make a dramatic statement, creating a look that feels up-to-the-minute, while still enduring over time.
Tile flooring. Colorful patterns, easy to clean and complete water resistance make this an enduring winner.
Contrast. Mix up those white and black colors or cooler shades with the warmer ones—stunning and dramatic!
What will be some of the kitchen trends you'll follow in the next year? What are your enduring favorites?