The 60-inch professional range is the largest range you can buy.
It has every standard add-on for professional ranges like French tops, grills, griddles, and multiple burners. You will also have two full-size ovens.
Unfortunately, that is where the similarities end and the confusion begins because, as you are about to discover, there are many types of professional ranges.
The best brands to consider are Wolf, BlueStar, Viking, and Thermador. There is no best 60-inch range with every possible feature.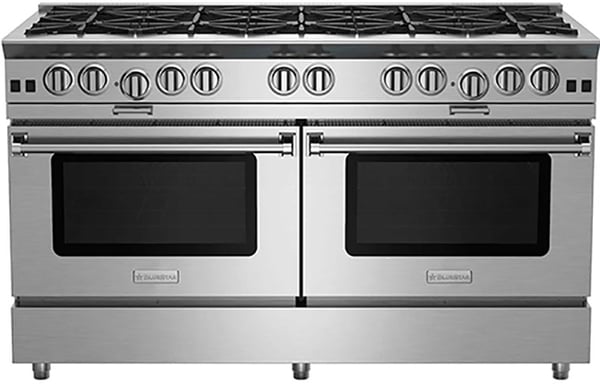 BlueStar ranges originated in Reading, PA in 1880 from Prizer-Painter Stove Works, a manufacturing company of residential and commercial ranges, hot water heaters, furnaces, and heating stoves. Prizer-painter Stove Works continued to manufacture high-end cooking products for over a century.
In 2002, Prizer introduced the BlueStar line, restaurant-quality ranges designed for the residential market.
All 60" BlueStar ranges can be customized with 750+ colors for knob and range finishes plus (10) different trim options. Customized ranges are made to order and typically have a 4-8 week lead time.
Features:
Star-Shaped Open burners
Precise 130° simmer burner
Cast-Iron Interchangeable charbroiler system allows for dual zone cooking
Extra-large convection oven with 1850° infrared broiler that accommodates a full size 18″ x 26″ commercial baking sheet
PowR oven, which is more accurate than any other on the market as it cooks with flat even heat cycling every 7 minutes. The flame is on the back wall of the oven.
Manual Cleaning
Integrated wok cooking
12" Griddle and 12" Grill
BTU Outputs
BlueStar 60" ranges will offer a variety of BTU outputs on their burners that will now range from: 9,000 BTU (1) / 15,000 BTU's (2) / 18,000 BTU's (2) / 22,000 BTU's (2) and a high of 25,000 BTU's (3) depending on the range
Grill and Griddle are 15,000 BTU
25,000 BTU PrimaNova™ burners , 22,000 BTU UltraNova, 18,000 BTU SuperNova, 15,000 BTU Nova™ burners for rapid boiling and heating
130-degree simmer burner
BlueStar offers tremendous quality and variety within their 60" range line-up offering (9) different 60" range options.
They are also very flexible with the open burner configurations as they can be customized to suit your cooking needs with a variety of griddle, grill, and French top sizes. They do not offer a dual fuel range.
BlueStar has the only third element convection gas range for even baking. They also feature a salamander, restaurant broiler on the top for caramelizing, and searing.
Differences Between the Platinum and RNB 60-Inch Pro Ranges Ranges
BlueStar has two series of pro ranges. Their platinum is their most powerful, with 25,000 and 22,000 BTU burners. It also has the third element convection.
The RNB is a bit less powerful, maxing at 22,000 and 18,000 BTU burners. The RNB has an integrated grill and griddle. The Platinum has more of an enhanced portable, reversible grill/griddle.
The RNB is also straight convection versus third element convection of the BlueStar.