Into all things tiny and beautiful? House Beautiful gave 11 designers the same Victorian dollhouse and $500 to decorate it any way they wanted. A whole lot of crazy glue, DIY-ed accents, and miniature accessories later, we present Dollhouse Beautiful. Tune in every Tuesday at 12 for a new episode and to see how each designer created their miniature masterpiece.
You'd be forgiven for thinking the interior above is a room from designer Caitlin Wilson's Dallas home. In fact, it's from a much smaller project—1/12 the size, to be precise. To create a dollhouse for our Dollhouse Beautiful series, Wilson used her own home—with all its recognizable pale pastel colors—and her own furniture collection as inspiration. "I love blue-and-white, so obviously I had to use it for my dollhouse," explains the designer of her color choice.
The decision made it easy for Wilson to source wallpaper and rugs, which she did from her own eponymous line, shrinking down her designs to miniature scale (and printing wallpaper on adhesive paper for easy installation). "It really looks like one of my projects," the designer marvels.
For the exterior, Wilson went a bit more bold than she would on a life-size home and made it pink. "I picture this in a little girl's room, and I think she'd want it right next to her bed, so I wanted it to be a pretty color," says the designer.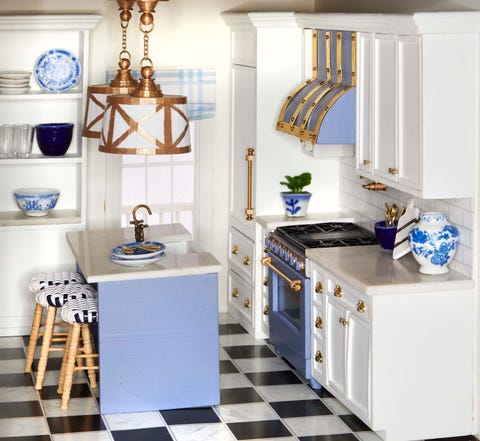 In the kitchen, Wilson got an assist from a very talented maker she found on Instagram: Ella, a creative 13-year-old entrepreneur who has made a business of making miniature room vignettes and furnishings, which she crafts using a combination of 3D-printed pieces and handmade finishes. "As soon as I saw Ella's work, I knew I wanted it in my dollhouse," Wilson says. She shared photos of the space Ella created a scaled-down version—complete with woven stools, a "marble"-topped island, and the iris-colored Blue Star range.